(Please LOGIN if you're having trouble downloading)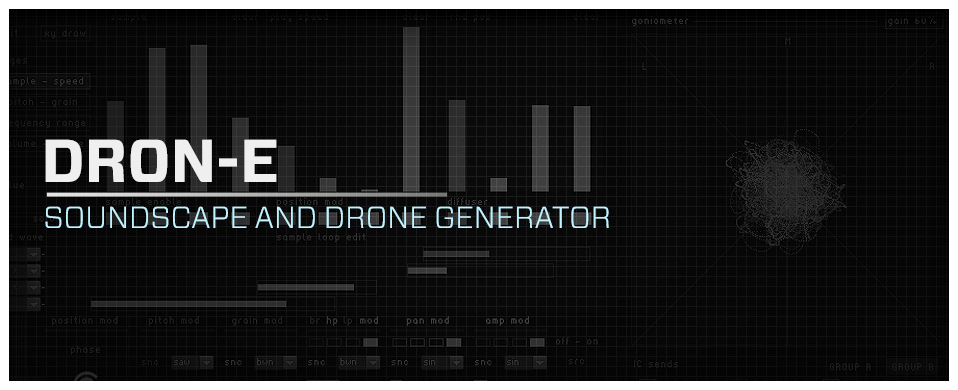 DRON-E is a Reaktor Instrument created by Antonio Blanca that specializes in creating ambient, generative, abstract and cinematic soundscapes or drones. DRON-E's flexible parameters and controls are perfect for creating everything from delicate atmospheres to complex walls of sound.
Included in the latest version are two custom created sample maps of acoustic and synthetic instruments, as well as field recordings custom designed for use within DRON-E. If you'd prefer to use your own sounds, you can load your own samples and venture into unknown sonic territories. In addition to the pre-established modulators and controls, it's possible to easily use your own modulators built in Reaktor. This means that you can connect things like sequencers or break-point envelopes using the EXT option, and use MIDI or OSC signals to further shape your sounds.

Dron-e 1.5 XMAS Pack Features:
Bonus XMAS snapshot bank and sample map
50 new snapshots by Antonio Blanca
390mb sample map
24bit/96khz
Dron-e Features:
4 Voice Granular Pad Engine
Dedicated modulation per parameter
Low frequency sub oscillator
Sample loop start/end per voice
24bit/96khz
4 Snapshot banks
340mb sample map
Approx. 740mb of disc space
At least 1 gig of RAM for most sampler instruments
Internet connection for product download
Any Mac or PC program that can read .WAV files
Native Instruments Reaktor 5.8+ for PC or MAC. Reaktor Player is NOT supported.
The package size for this download approx. 486MB zipped, so please allow yourself ample time to download the file if you are on a slow internet connection. On a fast connection, you should be able to download the package in about 10-20 minutes, while on a slower connection it may take up to an hour or so. If you have any issues, please feel free to contact us 24/7 for help. Please consider using Firefox and the free download extension, Down Them All, if you are having problems with your downloads timing out. Get it at the
Down Them All
website.
Antonio Blanca, known for his world class Lemur templates, Reaktor ensembles and sound design, is the latest member of the Twisted Tools team so expect more from him in the future!
Follow Antonio here:
https://antonioblanca.com
Tweets by antonioblanca