BUFFEATER

 GRANULAR MULTI-FX FOR REAKTOR
OUT NOW!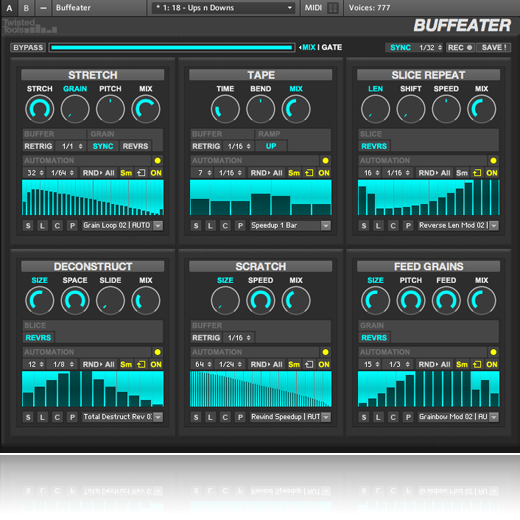 WHAT PEOPLE ARE SAYING…
"Twisted Tools has taken real-time granular processing to the next level…The real-time interaction is ridiculous with the internal automation and automation recording. This some of the most fun I have had in a long time." – Richard Devine
"Buffeater is the perfect way to obliterate sound and rebuild it into a sonic super hero." – Bassnectar
"Buffeater is a little beauty. Exciting mangling effect at your fingertips, versatile and easy to use. We love it, what more can you ask? Another rock solid release from Twisted Tools….Bravi!" – D'arcangelo
"Buffeater makes me wonder what the guys from Twisted Tools will come up with next. It can slice and dice loops until they turn into effects themselves. Twisted Tools is pushing the boundaries within Reaktor to the limit." – Mike Huckaby
"If you like your effects readily at hand, it doesn't get much better than Twisted Tools' Buffeater Ensemble for Native Instruments Reaktor." – Len Sasso
"This sh** is sick…I need it" – Antiserum
"The cool factor is turned up HIGH on Twisted Tools' new Buffeater multi effect for Reaktor…" – Jordan Rudess

OTHER TWISTED INSTRUMENTS

TWISTED T-SHIRTS

TWISTED CONTESTS
In case you missed it, every month we're having a contest!
Submit audio using Twisted Tools products or freebies to enter
Winner receives free copy of Vortex or Colorflex + a t-shirt
Voting is open to the public
Gain exposure!
Voting is done with 'Facebook Like' buttons that link to your Soundcloud page!
view email in browser | unsubscribe | login |

You are receiving this email because you signed up at our website or because you ordered a product from us. If you'd like to unsubscribe, simply follow the links at the bottom of this page. Thanks!

Twisted Tools

San Francisco, California

Copyright (C) 2010 Twisted Tools All rights reserved.