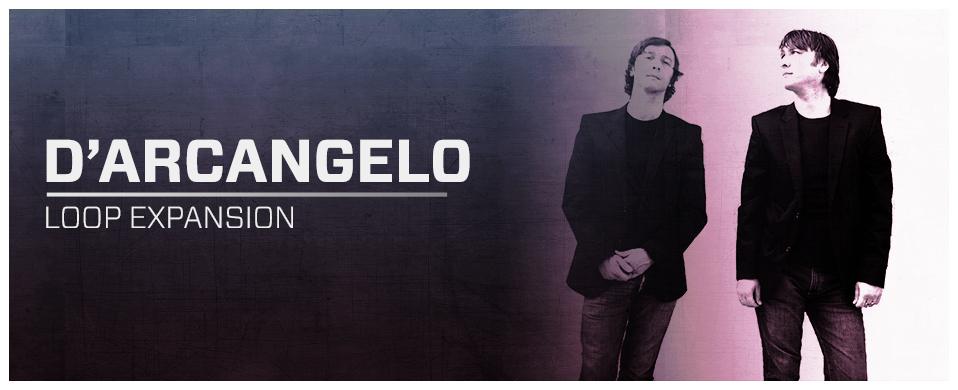 The D'ARCANGELO Loop Expansion pack features 128 experimental electronic and IDM loops by the legendary Italian duo known as D'ARCANGELO (Rephlex/Audiovisual Designs). At a tempo of 128BPM, these loops are just what you need to craft experimental beats, breaks and blips. In addition to the WAV files, this expansion comes with an optional expansion bank for Twisted Tools ULTRALOOP, featuring 128 hand-crafted presets to instantly get you started generating new grooves, variations and song ideas. With the ULTRALOOP expansion bank, 128 loops become hundreds more in no-time.
128 Loops drums, percussion and fx loops by D'ARCANGELO
128BPM
16bit/44.1khz .WAV Files
Works with any Mac, PC or tablet device that supports .WAV files
248.5MB
Includes optional ULTRALOOP EXPANSION snapshots with 128 presets for ULTRALOOP
Mac, PC or tablet computer capable of reading .WAV files.
Approx. 248.5 of available RAM
248.5MB of drive space
Internet connection for download
(OPTIONAL) Twisted Tools ULTRALOOP
(Reaktor Player is NOT supported)
(OPTIONAL) Mac or PC running the latest full version of Native Instruments Reaktor 5 if using ULTRALOOP or other Twisted Tools Reaktor products
The package size for this download approx. 84MB zipped, so please allow yourself ample time to download the file if you are on a slow internet connection. On a fast connection, you should be able to download the package in about 2-3 minutes, while on a slower connection it may take up to an hour or so. If you have any issues, please feel free to contact us 24/7 for help. Please consider using Firefox and the free download extension, Down Them All, if you are having problems with your downloads timing out. Get it at the
Down Them All
website.