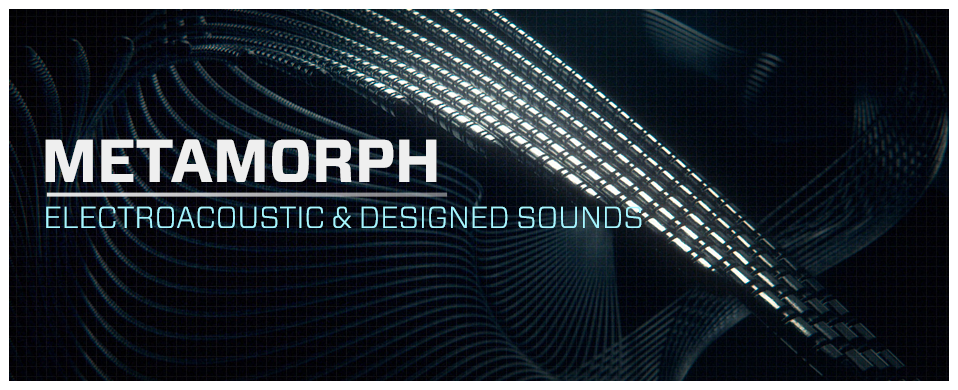 METAMORPH ™ is a vast collection of electroacoustic and designed sounds, developed by Italian sound artists BJM Mario Bajardi and Komplex (Iter-Research). METAMORPH takes heavily processed violins, pianos and acoustic instruments and morphs them into impacts, sci-fi atmospheres, user interface elements and beyond.
Whether you're a sound designer looking for alien textures or an electronic musician seeking out unusual timbres, METAMORPH features something for you.
Main Features:
Over 2.1 gigabytes of sound effects and designed sounds
24bit/96khz WAV audio embedded with Soundminer enriched metadata
Sampler instrument presets for Maschine, Ableton Live 9, Battery, EXS24, Kontakt, Maschine and Reaktor
A brand new version of Twisted Tools' MP16, called MP16d
MP16d Sampler Features:
16 Voice Polyphonic Sampler
Pad style layout
Unique parameter and modulation settings for per voice
FM and Delay FX per Voice
Note repeat effect per voice
Two LFOs per voice
BPM Sync
OSC Lemur Template by Antonio Blanca and Twisted Tools
Approx. 2.01 GB of disc space
At least 1 gig of RAM for most sampler instruments
Internet connection for product download
Any Mac or PC program that can read .WAV files
Latest version of 3rd party software if using sampler presets, controller templates and additional content
The package size for this download approx. 1.8 GB zipped, so please allow yourself ample time to download the file if you are on a slow internet connection. On a fast connection, you should be able to download the package in about 20-30 minutes, while on a slower connection it may take up to an hour or so. If you have any issues, please feel free to contact us 24/7 for help. Please consider using Firefox and the free download extension, Down Them All, if you are having problems with your downloads timing out. Get it at the
Down Them All
website.
motiongraphics+editing by Aras Darmawan
demo audio by Richard Devine