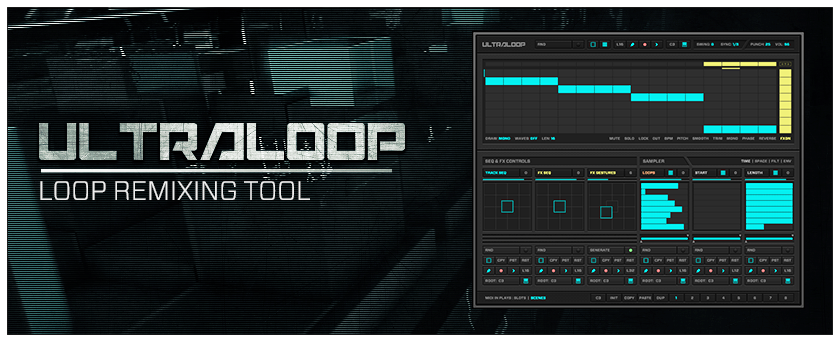 ULTRALOOP is a first-of-its-kind loop remixing sampler with a fast and intuitive visual workflow for Native Instruments *Reaktor. ULTRALOOP combines advanced loop layering, comping, effect processing and automation techniques to generate new grooves, riffs and song ideas. You can use ULTRALOOP with the included factory sample library or to remix your own samples, injecting new life into any existing loop library. In addition to the factory library, Ultraloop Expansions are available as part of our Loop Expansion series.
*Reaktor Player NOT supported.
At the core of ULTRALOOP is an advanced loop layering engine and sequencer, capable of both layering and comping – a production technique that allows you to flip between layered tracks that are playing back simultaneously, by muting and un-muting slices of each layer. Up to eight tracks with loops of any BPM can be layered or comped together in real-time and can be further processed using the all-new Gestural FX engine. The Gestural FX engine automatically generates dynamic effect movements that ramp and modulate over time, using a suite of creative effects designed to produce endless fills, articulations and variations.
To create additional loops and variations, ULTRALOOP features and endless supply of randomization functions, connected to a unique Preset Grid system for each main parameter group. A Preset Grid allows you to store, recall and automate settings by using a dynamic memory grid made up of 17 slots that can be played on-the-fly. The settings for the entire instrument, including all the parameter Preset Grids can be stored and recalled in one of eight Global Scenes, allowing you to create infinite loop variations. All the relevant instrument features can be played with live, without skipping a beat, by using a mouse, MIDI or OSC.

Loop Remixing Sampler.
Advanced layered sampler engine with intuitive interface.
Visual loop compositing.
Generative Gestural FX to create fills, articulations and variations.
FX Sequencer
Specialized track sequencer with mono and poly draw modes.
Layered playback and editing of up to eight tracks simultaneously.
Independent controls per layer, organized into parameter cells with sliders.
Automatable Preset Grids per parameter group, with 17 memory slots each
8 Global Scenes per snapshot
Preset Grids and Scenes are playable via mouse, MIDI or OSC.
Extensive randomization options.
Time and pitch stretching to allow loops with different BPMs.
Flexible multi-output routing per layer.
Master Punch control
Swing
Control nearly every parameter with included iPad Lemur OSC Template by Antonio Blanca
3+ banks of presets
2224 Sound Variations
Over 800mb of included factory sample content by from Enig'matik Records, Loopmasters and Sounds of Revolution.
Optional Expansion Packs by cutting edge artists such as Dusty Fungus, Chris Carter and Si Begg
MIDI Gate and Retrigger mode for Scene playback
Optional color-coded tracks and sliders
Shuffle sequencer steps left/right
Sequencer area selector for custom edit zones
Maschine 2 preset file with knob mappings
Optimized CPU when switching scenes
Various improvements and optimizations

Registered users may login and download the update.

Mac or PC running the latest full version of Native Instruments Reaktor 5
(Reaktor Player is NOT supported)
Intel Core 2 Duo Processor or better recommended
600MB of available RAM
iPad with the Liine Lemur application installed if you plan to use the included OSC template by Antonio Blanca
Approx. 1.25 GB of drive space
Internet connection for download
The package size for this download approx. 602MB zipped, so please allow yourself ample time to download the file if you are on a slow internet connection. On a fast connection, you should be able to download the package in about 5-15 minutes, while on a slower connection it may take up to an hour or so. If you have any issues, please feel free to contact us 24/7 for help. Please consider using Firefox and the free download extension, Down Them All, if you are having problems with your downloads timing out. Get it at the
Down Them All
website.
Registered users may LOGIN and DOWNLOAD UPDATES.



TRAILER
PRESET DEMOS
TUTORIALS