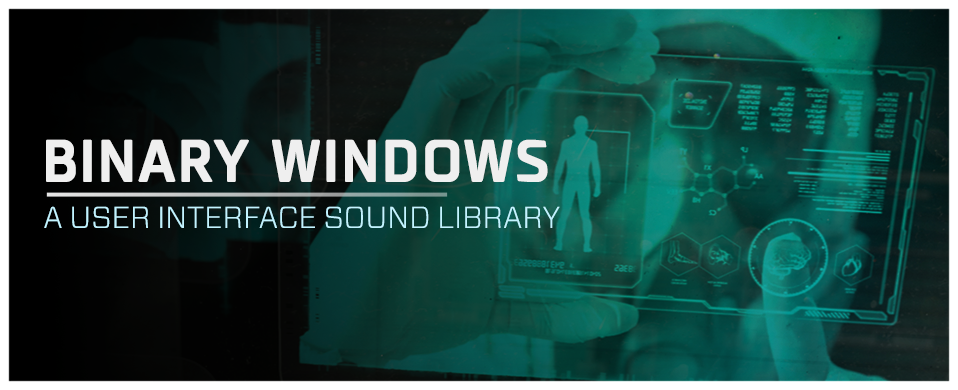 BINARY WINDOWS is a user interface sound design toolkit created for multi-media sound editors, application developers and anyone interested in high-tech sound effect elements. The product includes over 731MB of royalty free sound effects made up of 24bit/96khz metadata enriched WAV files along with a bonus Expansion Pack for Twisted Tools *S-LAYER. The package comes bundled with both unprocessed and designed sounds, making it a perfect fit for sound designers interested in creating custom sound effects or application developers looking to quickly add a finished sound into their product. When combined with S-LAYER, the Binary Windows sample library allows you to instantly generate infinite and unique sound effects by harnessing the power of S-LAYER's world renowned sample layering and randomization engine.
Download the Binary Windows Metadata/Sound List:
PDF
Main Features:
731MB of 24bit/96khz wavs
789 24bit/96khz WAV audio files embedded with Soundminer enriched metadata
Expansion Pack for Twisted Tools S-LAYER
Sound Categories:
Sci-Fi Holograms
Menus And Windows
Tonal Elements
Data Elements
Interactions
Screen Noise
Cursors
S-Layer Designed Sounds
Approx. 883 MB of disc space.
Internet connection for product download.
Any Mac or PC program that can read .WAV files
Latest version of Native Instruments Reaktor and Twisted Tools S-LAYER if using the including BINARY WINDOWS S-LAYER EXPANSION PACK. Reaktor Player is NOT supported.
Please visit  Native Instruments website for more information.

The package size for this download approx. 589MB zipped, so please allow yourself ample time to download the file if you are on a slow internet connection. On a fast connection, you should be able to download the package in about 5-15 minutes, while on a slower connection it may take up to an hour or so. If you have any issues, please feel free to contact us 24/7 for help. Please consider using Firefox and the free download extension, Down Them All, if you are having problems with your downloads timing out. Get it at the
Down Them All
website.
BINARY WINDOWS S-LAYER EXPANSION DEMO